Cheers To Guests!
Kentucky Distillery Renovates and Expands Visitor Center.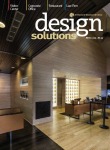 The Woodford Reserve Distillery in Versailles, Kentucky, recently invested more than $1.5 million in the renovation and modest expansion of its Visitor Center, including a dedicated tasting room, enhancements to the retail space, and aesthetic improvements. The Visitor Center, known as the Homeplace, was originally constructed in 1996. Since that time, the bourbon tourism industry has grown substantially, and the Woodford Reserve Distillery now hosts over 120,000 visitors each year.
Woodford Reserve is crafted at the historic Woodford Reserve Distillery in the heart of thoroughbred country. It is a product of the Brown-Forman Corporation, a producer and marketer of fine quality beverage alcohol brands such as Jack Daniel's, Southern Comfort, Finlandia, Korbel, Tequila Herradura, Sonoma-Cutrer, Chambord, and Tuaca.
Publication: AWI Design Solutions, Winter 2015.
To download the full article, please click on the button below.
Team Scores Big
Hockey Team At Home in Cool New Locker Rooms.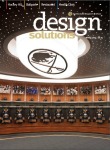 First Niagara Center, a premier sports and entertainment facility located in downtown Buffalo, New York, is best known as the home of the Buffalo Sabres. The Sabres, a National Hockey League team founded in 1970, stands third in the Northeast Division and ninth in the Eastern Conference. When Terrence Pegula bought the team in 2011, the Sabres were gaining a new owner who brought in a new vision of the arena's appearance.
Pegula's first act of business as new owner was to completely renovate the entire team area, including locker room, the visiting team's locker space, training and medical facilities, the player's lounge and the locker rooms for the Buffalo Bandits lacrosse and Canisius College hockey teams.
Publication: AWI Design Solutions, Winter 2013.
To download the full article, please click on the button below.
Prairie Style Residence Resounds in Oak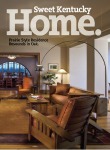 It was designed by Huston Design LLC of Miami, Florida, with input from the home's owners. Custom architectural woodwork for the project was fabricated by AWI member firm Leininger Cabinet & Woodworking, Inc., located in Lexington, Kentucky.
Per the owners' request, architectural style copies details of early 20th century Prairie style homes, specifically the low, horizontal lines, overhanging eaves, clerestory windows and open interior spaces. To accommodate both the period design and owners' love of contemporary design, the front portion of the house includes custom freestanding and inset Prairie style features, while the back portion hosts contemporary furniture, lighting and accoutrements.
Publication: Sweet Kentucky Home Magazine, Winter 2012.
To download the full article, please click on the button below.
CWB: 2006 Design Portfolio Awards – Honorable Mentions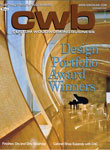 Leininger Cabinet & Woodworking, Inc. received two honorable mentions in the Custom Woodworking Business Magazine's 2006 Design Portfolio Awards. The Leininger team received an Honorable Mention for their custom woodwork on Roy's Bar and Grill in the Commercial/Institutional Furniture Category.
The Leininger team received a second Honorable Mention for their work on a Residential Kitchen in the Kitchen/Bath Cabinetry Category. Both designs reflect a mastery of materials and visual magnificence while providing a retro-art deco ambiance.
Publication: Custom Woodworking Business Magazine, December 2005.
To download the full article, please click on the button below.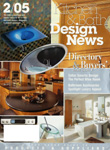 To create a truly innovative kitchen or bath countertop project, it takes more than just a great looking material, an innovative edge treatment or unusual insets. The best countertop designs may be style conscious, but they also have to be solid as a rock to please today's discerning consumers.
These are the sentiments of fabricators and designers recently interviewed by Kitchen & Bath Design News, who relate that although the desire for a personalized environment is till high on clients' lists, having a countertop that is durable is just as vital.
Publication: Kitchen & Bath Design News, February 2005.
To download the full article, please click on the button below.
The Lexington home of Jim and Nancy Graves sports a butternut library custom-crafted by Leininger Cabinet and Woodworking. There are bookcases and a wet bar in the library, and a unique set of bi-fold doors leading to the kitchen. "This is good work," said Mr. Graves, of the double bi-fold doors, which form a raised panel jamb when they open. The jamb is "a neat detail dating back to Colonial times," said Rex Bartley, who has been in project management with Leininger Cabinet and Woodworking for five years. He had worked with the Graveses on two of their previous homes, and was delighted to work with them again as a member of the Leininger team.
Publication: Central Kentucky Lifestyle Magazine, Fall 2005.
To download the full article, please click on the button below.
The Lightness of Being Contemporary
Round as a harvest moon, a head of Zeus smiles a bronze greeting from atop a mossy brick wall. At first glance, this replica of the Greek god of the heavens looks to be guarding a 4,500-square-foot, red brick, Eastwood Drive traditional home that conforms to the affluent Lexington neighborhood's stringent building code.
Nestled in groundcover beside a solid cherry front door, a Dennis Whitcopf limestone-and-steel sculpture entitled "Greek Bride" hints at the lakeside abode's surprise interior with its modern makeup and ample artwork.
Publication: Kentucky Homes & Gardens Magazine, January/February 2005.
To download the full article, please click on the button below.
Owner Profile
Machinery investment cuts labor costs and increases productivity from custom architectural woodworking operation.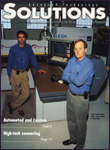 Adding flexibility to their manufacturing operation through new CNC equipment has made a significant difference in the growth and direction of Leininger Cabinet & Woodworking, Inc. "Now, we can produce a professionally-engineered product, to our customer's exact specifications, much faster and more cost-effectively than before," says John Leininger, president of the company, founded in 1952 by his father.
Publication: Advanced Technology Solutions Magazine, Spring 2001.
To download the full article, please click on the button below.
Cabinet Shop Flourishes in the Blue Grass State
Well-rooted growth has been the key to success for Leininger Cabinet & Woodworking Inc. of Lexington, KY.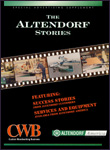 Leininger Cabinet & Woodworking, Inc. is a small shop that "kind of evolved" in a $2 million business, said company president John Leininger. His father Bob, founded the company in 1952 with the intent of making furniture, having studied with Tage Frid at the RIT School of American Craftsman. Finding it difficult to make a living as a furniture maker, he switched the focus to residential cabinetry. With a strong base of loyal customers, the shop was able to enjoy steady growth for a number of years. "We have always been interested in sustaining vigorous, well-rooted growth," Leininger said.
Publication: CWB – Custom Woodworking Business, Special Supplement: The Altendorf Stories, 1998.
To download the full article, please click on the button below.
THE WOOD 100: Ninth Annual Report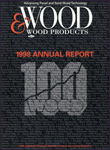 The results are in, and it's clear that 1997 was a very good year for the members of the WOOD 100. The companies in this report racked up sales of more than $826 million and grew by an average of 31.9 percent – the highest average growth in five years and tied with 1991 for the second highest growth in the nine years of the WOOD 100. The early returns for 1998 also look good, as 78 percent are forecasting double-digit growth. One might think that things couldn't possibly get better for these companies, but 40 percent of them are predicting their "best year ever" in 1999 with an additional 50 percent predicting a "good" 1999.
The WOOD 100 was established by Wood & Wood Products in 1990 to recognize the achievements of fast-growing wood products manufacturers. The WOOD 100 slogan, "Not the Biggest, the Best" was coined to encourage the participation of small custom woodworking shops as well as high-production woodworking companies.
Publication: Wood & Wood Products 1998 Annual Report
To download the full article, please click on the button below.